remedial & surgical shoeing services
A few examples of our remedial & surgical shoeing
imprint therapeutic plastic shoes
I also supply and fit the well known Imprint therapeutic plastic shoes. These are made from a completely mouldable plastic, which fits perfectly with the contours of the foot and are used on horses with laminitis/founder, angular limb deformities, flexural deformities, hoof cracks and footsore conditions.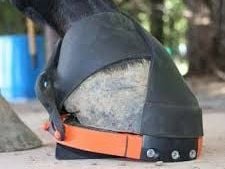 THE KROSSCHECK LEVERAGE TESTING DEVICE,,,
As the point of lameness is not always easy to diagnose, I have invested in a Krosscheck Leverage Testing Device. By elevating the foot in various directions this clever device offers a significant insight into where the horse is most comfortable or in pain and therefore allows me to shoe accordingly.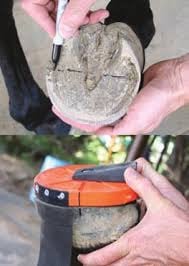 demonstrating the krosscheck leverage testing device...
For horses with laminitis we also offer a Full Rehabilitation Livery Service at our Livery Yard with on-going farriery support and a 'back to fitness' regime.
Below are just a few photos of some recent surgical and remedial shoes.